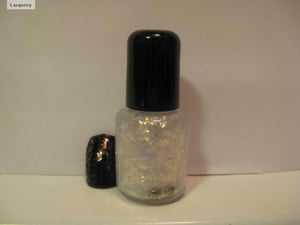 $

4.00
While its name may lead you to believe something different, Such A Flake polish will do nothing less than give you a fabulous, fun, and reliable look. Such A Flake is a clear based polish with iridescent pastel red, blue, gold, green flakes.
Nail Polish base is "3-Free". This means they do not contain the Toxic Trio of chemicals: Toluene, Formaldehyde and dibutyl phthalate.
The polish also contains cosmetic mica and synthetic mica.
Each MINI bottle is 1/8 oz. (5ml) filled to 7ml