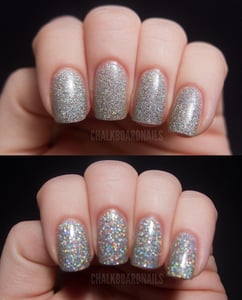 $

8.00
This sheer holographic glitter reminds me of all things "truly outrageous" and one of more popular 80's Girl Band. This glittery mix looks great by itself or atop another color to create a wonderful synergy!
Girl Band is better than ever too, now featuring white diamond glitter and holo flakies!
Nail Polish base is "3-Free". This means they do not contain the Toxic Trio of chemicals: Toluene, Formaldehyde and dibutyl phthalate.
The polish also contain cosmetic and other polyester glitters, as well as cosmetic-grade pigments. This polish also contains Aluminum.
Each full size bottle is filled to 15ml